Dean's Lecture Series | Jack Hanna
Mr. Jack Hanna
"Going Wild for Wildlife"

Thursday, September 29, 2005, 7 p.m.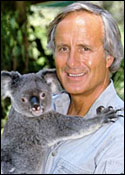 Host of the popular television series, Jack Hanna's Animal Adventures, Mr. Hanna is one of America's most beloved naturalists and adventurers. He received national attention after he became Director of the rundown Columbus Zoo in Columbus, Ohio in 1978. He not only transformed the zoo into a model facility, but through his media savvy, made the Columbus Zoo a household name. Jack Hanna's Animal Adventures now reaches 95 percent of U.S. television households every weekend and is viewed in over 60 countries worldwide. He has also published several books including an autobiography, Monkeys on the Interstate, and a children's book, Let's Go to the Petting Zoo With Jungle Jack. Mr. Hanna is a Professional Fellow of the American Zoo & Aquarium Association and a member of the Explorer's Club. He has been Director Emeritus of the Columbus Zoo since 1993. Mr. Hanna's lecture is sponsored by the Seaver Board of Visitors and Seaver Parents Council and hosted by members of Kappa Delta Pi, the Education honor society.