Dean's Lecture Series: Dr. Haslett
Dr. Carrie Haslett
"American Masters and their European Muses: 1870-1950"
Monday, March 21, 2005, 7 p.m.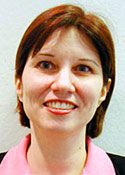 Dr. Haslett took her undergraduate degree in art history at Swarthmore College, and her graduate degrees in museum studies and art history at Case Western Reserve (M.A., 1993) and Bryn Marr (M.A., 1996; Ph.D. 1999). She has held professional museum positions at the Cleveland Museum of Art and at the Virginia Steele Scott Gallery of American Art at the Huntington in San Marino, California. She currently is the Joan Whitney Payson Curator of Modern Art at the Portland (Maine) Museum of Art. Most recently she has curated a remarkable exhibit entitled "Monet to Matisse, Homer to Hartley: American Masters and Their European Muses" which brilliantly traces the influence of European modernism on American art in purely artistic terms. She is also co-author of the highly acclaimed Neo-impressionism: Artists on the Edge (2002). Her lecture is sponsored by the Seaver Board of Visitors and the Seaver Parents Council and hosted by members of Golden Key, a general honor society.