Dean's Lecture Series: Dr. Myers
Dr. David G. Myers
"The Scientific Pursuit of Happiness"

Monday, January 24, 2005, 7 p.m.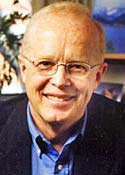 A native of Washington, Professor Myers took his undergraduate degree in chemistry from Whitworth College and his graduate degrees in psychology from the University of Iowa (M.A., 1966; Ph.D., 1967). He joined the faculty of Hope College in 1967, a position he has held until this date, serving since 1982 as the John Dirk Werkman Professor of Psychology. He is the author of fifteen books, including Intuition: Its Powers and Perils (2002), The American Paradox: Spiritual Hunger in an Age of Plenty (2000), The Pursuit of Happiness: Who Is Happy – and Why (1992), and Psychology Through the Eyes of Faith (with Malcolm Jeeves, 1987). He is also well known for textbooks in psychology and social psychology. Dr. Myers's lecture is sponsored by the Seaver Board of Visitors and Seaver Parents Council and hosted by members of Psi Chi, the psychology honorary society.