Dean's Lecture Series: Dr. Wright
Dr. N.T. Wright
"The Challenge of Following Jesus in the Twenty-first Century"
Monday, January 10, 2005, 7 p.m.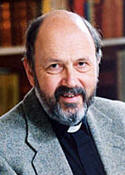 The Right Reverend Dr. Wright is one of today's best-known and respected New Testament scholars. Educated at Oxford and Cambridge Universities, he served as Fellow and Chaplain at Downing College, Cambridge (1978-1981), as Assistant Professor of New Testament Studies at McGill University in Montreal, Canada (1981-1986), and as Fellow and Chaplain of Worcester College, Oxford (1986-1993). He has served as Dean of Lichfield (1994-1999) and Canon Theologian of Westminster Abbey (2000-2003). Currently he is Bishop of Durham. He has served as Visiting Professor at Yale Divinity School and Harvard Divinity School, among others. Dr. Wright is the author of thirty books, including The New Testament and the People of God (1992), Jesus and the Victory of God (1996), The Resurrection of the Son of God (2003), and The Original Jesus (1997). These lectures are sponsored by the Office of Church Relations in honor of Frank Pack and hosted by members of the Pepperdine University Ambassadors Council.