Dean's Lecture Series: Dr. Fryer
Dr. Roland Fryer
"What Price Diversity? The Economics and Ethics of Affirmative Action"

March 30, 2004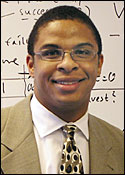 Dr. Fryer took his undergraduate degree from the University of Texas, Austin, and his graduate degrees from Pennsylvania State University. He completed a National Science Foundation postdoctoral fellowship at the University of Chicago in 2003 and is currently an assistant professor of economics and a junior fellow in the Harvard Society of Fellows. He is an applied economic theorist and empirical researcher who has written on the Causes and Consequences of the Racial Achievement Gap, Black Culture, and the Economics of Affirmative Action and Categorical Redistribution. Recent articles include The Economics of 'Acting White'; The Causes and Consequences of Distinctively Black Names, and Color-Blind Affirmative action.
His lecture is sponsored by the Seaver Board of Visitors and Seaver Parents Council and hosted by members of the Golden Key honorary society.