Dean's Lecture Series: Kathleen Norris
Kathleen Norris
"Shaping the Life that Matters"

March 8, 2004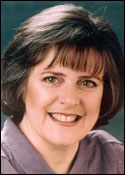 An award-winning poet and writer, Kathleen Norris grew up in Hawaii and took an undergraduate degree from Bennington College in Bennington, Vermont. After several years in the New York art world, in 1971 she and her husband moved into her grandparents' home in Lemmon, South Dakota, where she has lived now for over thirty years. The move has been the inspiration for much of her non-fiction work, including New York Times bestsellers Dakota: A Spiritual Geography (1993), The Cloister Walk (1996), Amazing Grace: A Vocabulary of Faith (1998), and The Virgin of Bennington (2002). She writes not as a theologian but as a literary person and a storyteller. Ms. Norris also has published seven books of poetry and received grants from the Bush and Guggenheim Foundations.
Her lecture is sponsored by the Seaver Board of Visitors and Seaver Parents Council and hosted by members of Sigma Tau Delta, the English honorary society.