Dean's Lecture Series: Dr. Elzinga
Dr. Kenneth G. Elzinga
"Microsoft and the Chicago School of Economics: Is Antitrust Obsolete?"

February 16, 2004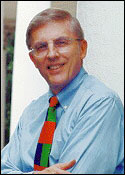 A native of Michigan, Professor Elzinga took his undergraduate degree at Kalamazoo College (1963) and his M.A. and Ph.D. degrees in economics from the Michigan State University (1966 and 1967). He began his teaching at the University of Virginia in 1967, holding the Robert C. Taylor Professor of Economics since 2002 and regularly receiving outstanding teaching awards. He has also held teaching appointments at Michigan State University, Cambridge University, Trinity University, and the University of Chicago. An internationally recognized specialist in industrial organization and anti-trust economics, Professor Elzinga has co-authored or co-edited at least six books, including Morality of the Market: Religious and Economic Implications (1985) and Antitrust, the Market and the State: The Contributions of Walter Adams (1991) and three mystery novels based upon economic principles, including Murder at the Margins (1978) and A Deadly Indifference (1995).
His lecture is sponsored by the Seaver Board of Visitors and Seaver Parents Council and hosted by members of Alpha Chi, the scholastic honorary society.