Dean's Lecture Series: Dr. Cronon
Dr. William Cronon
"Telling Tales on Canvas: Landscapes of Frontier Change"

January 29, 2004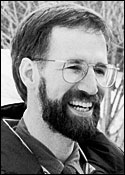 Profesor Cronon took his undergraduate degree in history at the University of Wisconsin, Madison, and his graduate degrees in history at Yale University (M.A., 1979; M.Phil., 1980, and Ph.D., 1990) and Oxford University (D.Phil., 1981). Dr. Cronon taught for a decade at Yale University, but since 1992 he has served as the Frederick Jackson Turner Professor of History, Geography, and Environmental Studies and since 2003 the Vilas Research Professor at the University of Wisconsin-Madison He has been a Rhodes Scholar, Danforth Fellow, Gugenheim Fellow, and MacArthur Fellow, and he has won prizes for his teaching at both Yale and Wisconsin Professor Cronon is the author or editor of Changes in the Land: Indians, Colonists, and the Ecology of New England (1983), Nature's Metropolis: Chicago and the Great West (1991), and Under an Open Sky: Rethinking America's Western Past (1992), Uncommon Ground: Rethinking the Human Place in Nature (1995) and Saving Nature in Time: The Past and the Future of Environmentalism (forthcoming), in addition to numerous essays in books or scholarly journals.
Dr. Cronon's lecture is sponsored by the Seaver Board of Visitors and Seaver Parents Council and hosted by members of Phi Alpha Theta, the History honorary society.