Dean's Lecture Series: Dr. Luke Johnson
Dr. Luke Timothy Johnson
"Learning the Human Jesus: History and/or Literature?"
January 11, 2004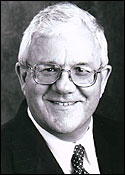 Professor Johnson received his B.A. degree from Notre Dame Seminary (1967), and in 1970 he took masters degrees in divinity from St. Meinrad, Indiana, and in religious studies from Indiana University. Receiving his Ph.D. from Yale (1976), he taught both at Yale Divinity School and Indiana University until 1992, when he assumed the position of the Robert W. Woodruff Professor of New Testament and Christian Origins at the Candler School of Theology, Emory University. A former Benedictine Monk and Priest, Dr. Johnson is a widely acclaimed teacher and author. Among his more notable books are The Writings of the New Testament: An Interpretation (2ed., 1998), Faith's Freedom: A Classic Spirituality for Contemporary Christians (1990), The Real Jesus: The Misguided Quest for the Historical Jesus and the Truth of the Traditional Gospels (1996), and The Creed: What Christians Believe and Why It Matters (2003).
This lecture is brought to you by the Staley Foundation and hosted by members of the Pepperdine University Ambassadors Council