Bachelor of Arts in English, Emphasis in Literature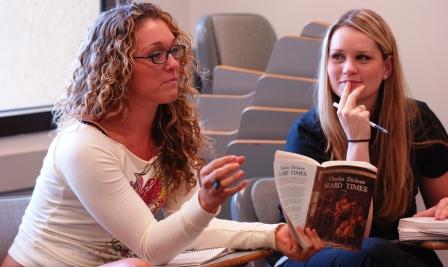 Course Requirements:
Course ID
Course Name
Units
General Education requirement: ENG 101 or equivalent (Great Books series, Social Action and Justice Series)
Major requirements:
ENG 215
English Studies*
4
ENG 325
British Literature
4
ENG 326
American Literature
4
Choose one 300-level or 400-level ENG elective course
3-4
5 Upper-Division Courses
(prerequisite for all 400-level ENG courses: ENG 215 and any 300-level ENG course)
ENG 401
Literary Theory**
4
ENG 500
Senior Seminar***
4
ENG 426
Topics in American Literature
4
ENG 435
Topics in British Literature (post-1800)
4
ENG 436
Topics in Multicultural American Literature
4
Choose either:
ENG 420
Shakespeare
4
ENG 425
Topics in British Literature (pre-1800)
4
*Prerequisite ENG 101 or equivalent. Students who have taken ENG 315 for GE requirement may substitute it for ENG 215.
**Prerequisite ENG 215 or 315
***Prerequisite ENG 401
COURSE SEQUENCING
Students should complete ENG 101 in their first year. All English majors must take ENG 215 (or ENG 315 as noted) as the first class in the major; students should take ENG 325 and ENG 326 by the end of the second year. All English majors should take ENG 401 no later than the fall of their third year. Students must complete ENG 401 before enrolling in ENG 500. Transfer students or students studying abroad should meet with their major advisor to plan a comparable sequence.