Young Alumni Awards
2014 Young Alumni Award recipients:

Ryan Sawtelle, Class of 2009
Leah Pierce, Class of 2006
Nomination form for the 2015 Young Alumni Awards
Leah Pierce is an entrepreneur who founded Elevated Strategies, an integrated marketing company, during her senior year at Pepperdine. Over the past eight years, she has developed and executed powerful campaigns by engaging millions of people through socially significant and inspiring messages that matter. In her latest project, she executed national grassroots faith-based promotions for the movie, Son of God, in collaboration with Motive Entertainment.

Leah supports her community and is dedicated to serving others. She's been a regular guest speaker at Pepperdine & a Pepperdine SIFE business advisory board member. In 2008, she became a founding board member of Young Hollywood Board for Best Buddies, a board of entertainment professionals in LA raising awareness & funds to enhance lives of those with intellectual and development disabilities. The board's first event raised over $10,000 for the organization. In 2009, she joined the Malibu Green Machine board, greening Malibu and the Pacific Coast Highway to make it safer. She's committed to enhancing the lives of youth through her involvement with Big Brothers Big Sisters, Junior Achievement, children's hospitals and youth ski racing programs.

Ryan Sawtelle is the founder and Executive Director of the White Heart Foundation – an organization focused on helping our nation's wounded warriors and first responders. In 2008, he conceived and established the Wave of Flags 9/11 memorial that adorns Alumni Park every year – 2,977 3x5 flags representing each innocent victim of the attacks on September 11th. The goal was to create an atmosphere where people could come to mourn, heal, and feel pride in their country.
That very same year, Ryan started the Ride to the Flags – a motorcycle charity ride that raises money annually for a specific wounded warrior in much need of assistance. The ride has become an official event of the United States Navy and has raised hundreds of thousands of dollars to help purchase rehabilitation and life-improving equipment for our heroes.

With this spirit in mind, Ryan created the White Heart Foundation. White Heart has helped heroes like Sgt. First Class Cory Remsburg – who just this year was the President's special guest at the State of the Union Address – afford mobility and rehabilitation equipment over the past few years. The organization also plans to launch an online giving network in July that will allow for people to give directly to our wounded warriors, like Cory.

Ryan makes his living as an actor and has been in several national television commercials for products such as McDonald's and Samsung and was just recently a guest star on MTV's Charlamagne and Friends.


2013 Young Alumni Award recipients: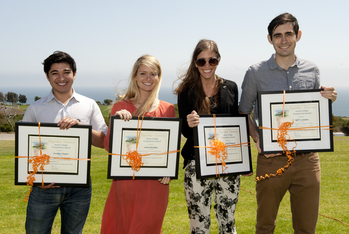 JesseRay Vasquez, Class of 2006
Lauren Parsekian, Class of 2009
Molly Stroud Thompson, Class of 2009
Jeff Loveness, Class of 2011
2012 Young Alumni Award recipients: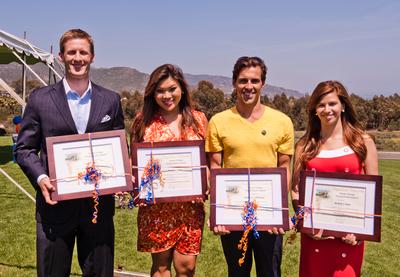 Seth Haye, Class of 2002
Jennifer Chan, Class of 2005
Madison Hildebrand, Class of 2003
Michelle Fields, Class of 2011

Nomination form for the 2015 Young Alumni Awards

Description and Eligibility
The Seaver College Young Alumni Awards recognize alumni who have graduated within the past ten years (2005-2014) and have distinguished themselves beyond others by living out the Pepperdine Mission, and providing either outstanding service to Pepperdine or making an important contribution to their profession or community.

Nomination Procedure
All nominations must be submitted via the official nomination form. The deadline to submit is Wednesday, April 1, 2015. Incomplete nominations will not be considered by the awards committee. Nominees not selected will remain in the pool for one additional year so long as they remain within the eligibility requirement of post graduation, ten years or less. After this time, their nomination will have to be updated and resubmitted by anyone still wishing to nominate this person for this award.

Award Presentation Ceremony - Waves of Success Luncheon
The award presentation will be made at the Seaver College Young Alumni Awards ceremony during the Waves of Success Graduation Luncheon held after the Seaver College Graduation on Saturday, May 2, 2015 at 12:30 p.m. at Alumni Park. Recipients must be able to attend this ceremony in person in order to receive this award.

Questions? Contact Hannah Dean.