Meet the Faculty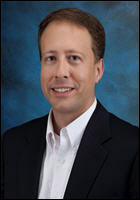 Scott A. Miller
Assistant Professor of Finance
Division: Business Administration Division
Office: Center for Communication and Business (CCB) 344
Phone: (310) 506-4085
E-mail: scott.miller@pepperdine.edu

Ph.D., Walton College of Business, University of Arkansas, 2009
M.S.B.A., Drake University, Des Moines, IA, 2005
B.A., Missouri Southern State University, Joplin, MO, 2003
Courses:
Investments
International Finance
Financial Management
Financial Derivatives
Key Awards/Affiliations:
Howard A. White Award for Excellence in Teaching
Outstanding Research Award, The Institute for Business and Finance Research
Best in Session Award, Global Conference on Business and Finance
Seaver Fellow, Business Administration Division, Pepperdine University
Semifinalist Best Paper Award, Financial Management Association (FMA) Conference, New York, NY
Private Research Grant, Equipment Leasing & Financing Foundation
Seaver College Dean's Research Grant, Pepperdine University
Seaver College AYURI Research Grant, Pepperdine University
Excellence in Teaching Award, Walton College of Business
Doctoral Academy Fellowship, University of Arkansas
Selected Works:
"Black Swans before the Black Swan: Evidence from International LIBOR-OIS Spreads" with E. Olson and M. Wohar, 2012, Journal of International Money and Finance. Vol. 31(6): 1339-1357.
"The Effects of Bank Capital Constraints on Post-Acquisition Performance" with C. Brune and K. Lee, 2012, Journal of Economics and Finance. Forthcoming.
"The Performance of Equipment Lease-Backed Securities During the Financial Crisis" with L. Goukasian, 2012, Journal of Equipment Lease Financing. Vol. 30(1): 1-8
"Securitization Performance vs. Other Asset Classes" with L. Goukasian, 2011, Equipment Leasing and Finance Foundation (ELFF)
"The Effects of Investor Bias and Gender on Portfolio Performance and Risk" with K. Lee, N. Velasquez and C. Wann, 2013, International Journal of Business and Finance Research. Vol. 7(1).
"The Impact of a Secondary Market on Video Game Purchase Intentions" with H. Newman and N. Velasquez, 2012, Review of Business Information Systems. Vol. 16(3): 103-112.
"Charter Value, Tobin's Q and Risk during the Subprime Financial Crisis" with T. Yeager and J. Jones, 2011, Journal of Economics and Business. Vol. 63 (5) 372-391.