Meet the Faculty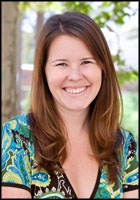 Elizabeth Helen "Liz" Essary
Assistant Professor of Sociology
Division: Social Science Division
Office: Appleby Center (APC) 251
Phone: (310) 506-7279
E-mail: elizabeth.essary@pepperdine.edu

B.A., Sociology, Point Loma Nazarene University, San Diego, 2002
M.A., Sociology, Duke University, Durham, 2004
Ph.D. Sociology, Duke University, Durham, 2008
Courses:
Culture and Society
Social Movements
Globalization
Introduction to Sociology
Key Awards/Affiliations:
Seaver Research Council, Dean's Research Grant, Pepperdine University, 2008
Graduate Teaching Award, Department of Sociology, Duke University, 2007
Summer Research Fellowship, Graduate School, Duke University, 2007
Member: American Sociological Association, Pacific Sociological Association
Academic Interests:
Citizenship and the State
Collective Identity and Mobilization
Comparative Historical Sociology
Cultural Sociology
Nations and Nationalism
Secession and Independence Movements
Selected Works:
Essary, Elizabeth H. 2007. "Speaking of Globalization... Frame Analysis and the World Society." International Journal of Comparative Sociology 48:509-526.