Meet the Faculty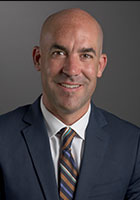 Paul Begin
Associate Professor of Hispanic Studies
Divisional Dean, International Studies and Languages Division
Division: International Studies and Languages Division
Office: Seaver Academic Complex (SAC) 127
Phone: (310) 506-4866
E-mail: paul.begin@pepperdine.edu

Ph.D., Spanish, University of Virginia, 2006
M.A., Spanish, University of Virginia, 2002
B.A., Spanish, Pepperdine University, 1999
Academic Interests:
Luis Buñuel
Spanish cinema
Spanish literature, 19th C to present
Selected Works:
Regarding the Pain of Others: The Art of Realism in Icíar Bollaín's Te doy mis ojos. Studies in Hispanic Cinemas (forthcoming)
España 1936: A 'Buñueloni' Documentary. Letras Peninsulares (forthcoming, Fall-Winter 2009)
When Victim Meets Voyeur: An Aesthetic of Confrontation in Hispanic Social Issue Cinema. Hispanic Research Journal 9.3 (June 2008): 261-275
Entomology as Anthropology in the Films of Luis Buñuel. Screen 48.4 (winter 2007): 425-42.
Buñuel, Eisenstein and the Montage of Attractions: An Approach to Film in Theory and Practice. Bulletin of Spanish Studies 83.8 (2006): 1113-1132.
Ángel Ganivet, Gothic Art and the British Socialist Movement. Revista Hispánica Moderna 58.1-2 (2005): 61-79.