Meet the Faculty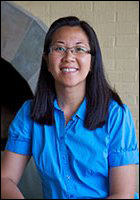 Loan Pham Kim
Assistant Professor
Division: Natural Science Division
Office: Rockwell Academic Center (RAC) 109
Phone: (310)506-6369
E-mail: loan.kim@pepperdine.edu

Ph.D., Public Health, University of California, Los Angeles, 2011
R.D., Dietetic Internship, University of California, San Francisco Medical Center, 1997
M.S., Nutritional Science, San Jose State University, 1996
B.S., Clinical Dietetics, University of California, Berkeley, 1994
Courses:
Community Nutrition
Research Methods and Statistics
Key Awards/Affiliations:
Dean's Outstanding Student Award, UCLA, 2011
American Heart Association Pre-Doctoral Research Fellowship, 2009-2011
American Public Health Association
Academy of Nutrition and Dietetics
American Society for Nutrition
Academic Interests:
Childhood Obesity
Health disparities among low-income immigrant communities
Influence of perception and acculturation on dietary behaviors
Selected Works:
Chaparro, M.P., Langellier, B., Kim, L.P., & Whaley, S. E. (2011). Predictors of accurate maternal perception of their preschool child's weight status among Hispanic WIC participants. Obesity. Published on-line (doi:10.1038/oby.2011.105).
Kim, L.P., G.G. Harrison, and M. Kagawa-Singer (2007). Perceptions of diet and physical activity among California Hmong adults and youths. Prev Chronic Dis, 4(4): p. A93.
Harrison, G., Kagawa-Singer, M., Foerster, S., Lee, H., Kim, L.P., Nguyen, T., Fernandez-Ami, A., Quinn, V., Bal, D. (2005). Seizing the Moment: California's opportunity to prevent nutrition-related health disparities in low-income Asian-American populations. Cancer, 104(12 Suppl): 2962-8.
Ikeda, J., Pham, L., Nguyen, K. (2002). Culturally relevant nutrition education improves dietary quality among WIC-eligible Vietnamese immigrants. J Nutr Educ and Behav, 34: 151-158.